Without question, true beauty comes from within. For that inner beauty that every man and woman carry within to shine through for others to see, that person must have the self-confidence to shine. Sometimes the most beautiful person inside and out can be held back by what they believe to be an exterior blemish. Anything from thinning hair to blotchy skin and beyond, can be so severely crippling to one's spirit. 
Without question, true beauty comes from within. For that inner beauty that every man and woman carry within to shine through for others to see, that person must have the self-confidence to shine. Sometimes the most beautiful person inside and out can be held back by what they believe to be an exterior blemish. Anything from thinning hair to blotchy skin and beyond, can be so severely crippling to one's spirit.

When there is something bothersome to any individual about their appearance, especially at a level that creates an uncertainty about how they may be viewed by others, seeking a way to resolve or improve it should be a comfortable and supported endeavor.

At ClaraDerma, there is a welcoming and safe space for anyone to share their concerns about their appearance with a team of professionals equipped to listen, validate, and respond with appropriate guidance. Founded by Olenka Lyle and Alicia Yap, ClaraDerma puts your feelings first, acknowledging that how you feel in your own skin is of the utmost importance.


Reveal Niagara Business Magazine gets up close and personal with the brilliant and remarkable Founders of ClaraDerma, Olenka and Alicia, who share their personal dedication in the field of medical grade skin care and aesthetics: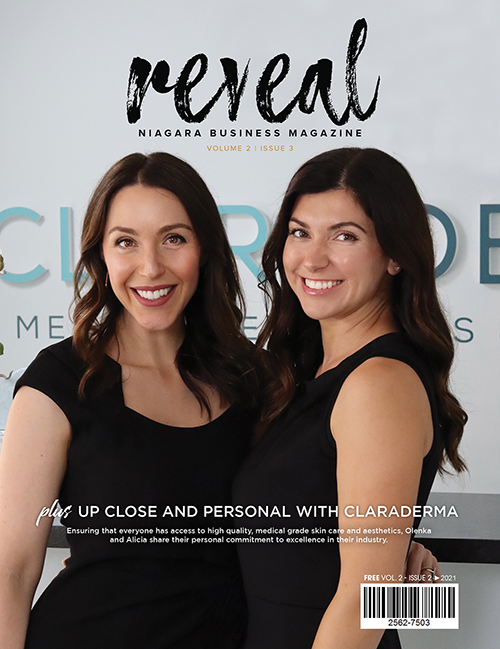 What is the biggest inspiration you have for entering this industry?
Alicia: Our biggest inspiration for entering this industry was the lack of inclusivity across the industry. We wanted to create a space that was accessible for anyone looking for skin care advice, treatment, or products while helping to break down the stigma associated with Medical Spas. Our owners and team members have all struggled with some form of skin concern or body confidence in our lives and want to help others who struggle.
Olenka: After experiencing many personal struggles when seeking help for my own skin care issues, and with a background in health promotion and disease prevention, I know firsthand that it's best to take a preventative approach rather than treating issues and diseases after they arise. Whether I was dismissed because of financial assumptions, refused treatment because of my age, or prescribed an unfit solution without understanding the true nature of my issue, there was a clear gap in the industry - it was time for us to create an accessible space for everyone seeking consult and results.
To help someone address their skincare concerns and see that confidence shine is what fills us up. We see people blossom once they feel confident in their own skin.
Can you walk us through your primary considerations when performing a consult for a new patient?
Alicia: The primary and only consideration when performing a consultation for a new patient is "What are your concerns?" Our business motto is "your concern is our concern" for a reason. We will never recommend a product or procedure that our patients have not expressed interest in or that are unnecessary for them. We will make a treatment plan for our patients based on what is bothering them - and advise further upon request.
Olenka: Listening is key. Patients come in for consultations for something bothersome to them. For example, they don't like the furrow between their eyebrows.  As we uncover that, there is always an emotion or outward expression linked to what they see that lies deeper. Our goal is to make our patients feel comfortable, to share their insecurities with us. Many times, they have shared the same insecurities with a family member or friend, followed by common reactions such as "you are beautiful you do not need to do that" and as true as that may be, it's important that we validate how our patients feel about themselves.  When we determine the concern, we present the best treatment option and sometimes what we recommend is surprising. The most effective treatment is not always invasive or require multiple sessions. I like to say that if you've never done anything professionally to address your skin, the start of your journey will be 80% in clinic treatments to get your skin refreshed and looking its best. From there, you transition to 80% medical-grade home skin care for maintenance and only 20% in-clinic treatments.
How do you want patients to feel after an experience with you?
Alicia: Empowered and beautiful!

Olenka: Validated, energized, hopeful, and confident. Trust and consistency are key. Aside from personality preferences, I want our patients to be confident that they can book with any team member and receive the similar information and recommendations, exceptional service, and results.
What are your most popular procedures during the fall and winter months? Are there other procedures that you highly recommend during this time?

Alicia: It's the perfect time for laser hair removal, IPL (Intense Pulsed Light), Sun damage correction, Rosacea treatments, and discolouration correction with lasers. We also perform fractora skin resurfacing, microneedling, and chemical peels.
Olenka: Fall and winter is time for our intensive resurfacing/tightening procedures and sunspot removal (IPL) because these procedures require no tan in the skin and are better done when sun exposure is low. It's also a popular time for botox and filler as people get ready for holiday parties and special events surrounding the Holidays.
How do you encourage your patients to follow post-treatment instructions?
Alicia: We provide them with detailed post care instructions via email that is linked through our electronic medical records platform. We also provide all the necessary products for post care depending on the type of procedure. We also make ourselves extremely accessible to our patients in case they have any questions before and after a procedure.

Olenka: All treatments also have a mini consultation included so that we are aware of any changes to the skin or the routine up to the moment before a service. Post care instructions are always reviewed orally at the end of a session and if there are any post care kits or products, we ensure the patients have those before leaving. We also follow up with patients either via email, text, or phone call within the appropriate timeframe to ensure that proper healing is happening and there are no questions or concerns. We will always see a patient if they are worried about something post-procedure and have often had them send us photos or even hop on a video call if they are worried and need reassurance before they can come in person.
Can you give us a few of your personal skincare tips that you apply in your own daily routines?

Alicia: I have a few, beginning with do not neglect the neck! Anything you do to your face you should do to your neck. Also, never forget the holy trinity of skin care: Vitamin C, Sunscreen, & Exfoliate! When it comes to acne, less is always more - a good cleanser, a salicylic acid serum and a non-comedogenic moisturizer go a long way.  And absolutely do not use gritty scrubs on acne prone skin! I see this ALL the time and it should be avoided at all costs. If a chemical exfoliant or serum based exfoliant is necessary, AHA, Salicylic acid, glycolic acid or retinols are best for acne prone skin. Small dose of botox (baby botox) is useful in the prevention of deep-set wrinkles and can be started early if a patient so chooses. Medical grade products are worth the money and are typically the same cost as over the counter skin care – the difference is that they work better and are tailored to your needs when consulting with a professional. And finally, for the young, it's never to early to start! Do not wait until you are in the "correction" phase of life. It's less expensive and much more beneficial to be preventative by using good skin care and wearing your SPF when you are young.

Olenka: The two I can't stress enough are sunscreen (ALL THE TIME !!!) and retinol. There is no better way to protect your skin from aging than with sunscreen. You will help reduce sunspots and pigment changes, wrinkles, and leathery skin. Also, medical grade retinol increases how quickly your skin cells turn over, it's your long-term skin game changer. Retinol is technically a chemical exfoliant in the way it promotes cell turnover and helps to reduce fine lines, pigment, acne, and acne scarring as well as just works on texture. It can take a little bit of time to incorporate it into your skin care routine because it can cause some irritation, dryness, and flaking if it's used too quickly or at a high potency. However, it will help the most in the long run. The challenge I see is that most over-the-counter products that include retinol, are not in an active retinol percentage to make a difference. That is because by law, any products sold over the counter without medical oversight is subject to regulated chemical concentration. That is why, seeing medical grade skin care professional is so important.
Okay, one more, Vitamin C - brightens the skin! But the same problem as with retinol, it's not very stable in products, so again, you need a medical grade vitamin C so that it doesn't oxidize before you use it.
Can you tell us how you have created such a warm and welcoming team environment at your clinic?
Alicia: We all love our jobs. When you love what you do it's easy to be welcoming and warm to patients because you are genuinely excited that they are there. We selected our team with the core concept of always doing what is best for our patient. We will only recommend what is needed for optimal results.  Our team has a passion for helping others and as we said before, have dealt with similar issues in their life so can relate!
Olenka: Alicia and I have been very lucky with the fabulous individuals who have joined our team. It's also a conscious effort to choose providers that fit with our philosophy, values, and that are caring humans at the core. Each one of our team members are invested in their patients and care so deeply about experience and results. We are constantly consulting in the back room to brainstorm the best options and treatment plans for our patients. If something hasn't worked the way they thought it would, our knowledgeable team consulting with one another, the nurses and medical director to figure out the next steps to improve outcomes. We support each other, always. When they have successes, we all feel them and when something doesn't go a certain way, all hands-on-deck to find the right solution. If someone comes in for a consultation and their best option is botox or filler, then the aestheticians set something up with the nurses. Similarly, if the nurses have a consultation and the patient is best suited for a skincare service, the appointment is booked with an aesthetician. We also provide ongoing education for our team and support them to be comfortable and confident in the services they provide. We have aestheticians that are well-experienced with certain machines and procedures like Fractora with PRP, while others have mastered lash lift and laser hair removal. Aside from being proficient with our services, each one has their niche of excellence. Alicia and I always try to support everyone and hope to be able to do more as we grow. We are a living wage employer. We try to be more competitive with our wages and at the same time, try to accommodate everyone with flexible shifts and vacation days. Alicia and I also love organizing some team building days off a few times a year (when covid allows, lol) as a thank you for all their dedication and hard work. We just had a backyard team party with an afternoon high tea, catered dinner, and yard games complete with a bartender for summer drinks and to pour the bubbly! We know that our team works hard, and we want them to know how much we appreciate them. We are truly grateful, and Alicia and I try to be open and supportive, leading by example to provide the best patient care possible.
We heard some good news to share with the community, can you tell us what's coming next for ClaraDerma?
Alicia & Olenka: WE ARE EXPANDING!   
Alicia: We are aiming for construction to be completed in the New Year - we will be adding more treatment rooms, expanding our treatment menu, and incorporating new technologies!

Olenka: Our location is not changing as we are taking over the neighbouring unit to grow the clinic. We have really outgrown our current space and have had to compensate by being open on Sundays so that we don't keep a long waitlist. We are doubling our square footage to allow for additional treatment rooms as well as nice big boardroom/break room for our team. This larger space will also allow us to offer double facials so you can come with a friend or significant other to relax. I am completing my Nurse Practitioner program which will allow me to add additional services to ClaraDerma+. As an NP, I can focus on women's health with the addition of hormone therapy, vaginal rejuvenation and many post pregnancy/menopause issues that can occur. Additionally, I can provide more support for acne concerns as well as other dermatological issues that may need additional prescriptions or procedures (think Dr. Pimple Popper, lol). We cannot wait to get going on the renovation and look forward to a announcing a grand reopening to the community as soon as we can.