Details

Written by:

Reveal Magazines

Reveal Magazines
On October 18, 2023, at The Pen Centre in St.Catharines, Bethlehem Housing and Support Services will hold its 1st Annual Country Harvest Soup Fest from 11:30am to 2:30pm. This fundraiser, associated with the Empty Bowls campaign and sponsored by Essentials Cremation And Burial Services Inc., supplements their usual March event. Attendees can savour gourmet soup samples made by Niagara's top chefs along with artisan bread. The event aims to support individuals and families at risk of homelessness due to varied challenges. Proceeds help such individuals and families in the Niagara region.
Tickets can be bought online or at the event.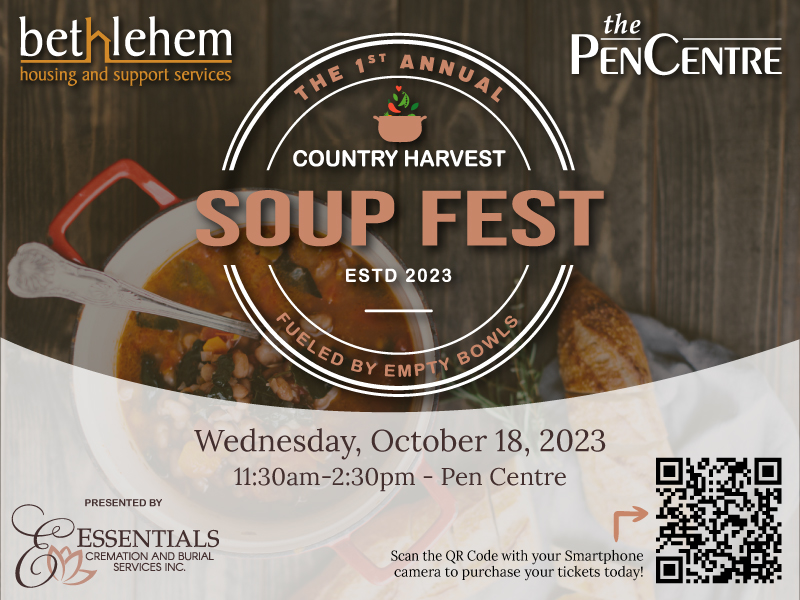 Vendors and sponsors interested in participating can email This email address is being protected from spambots. You need JavaScript enabled to view it.. Special thanks were given to various sponsors, including the title sponsor, Essentials Cremation and Burial Services Inc., and food providers like Doc Magilligan's and Kully's Original Sports Bar, among others.
Lastly, gratitude was expressed to United Way Niagara for their continued support of programming.