The Niagara-based brewery is paving the way to a unique and exciting branding opportunity for businesses
In an engaging discussion with Wolfgang Guembel, Founder of Lock Street Brewing Corporation, Reveal Magazines explores a unique branding opportunity that is turning heads. Incorporating uniqueness and personal connection, Wolfgang has leveraged his love of the brewery craft and mobilized a brand opportunity that stands above the crowd.
How did this idea come about?
I love when brands use 'touch points' to connect with me in ways that are meaningful and useful. I think of my favourite toque, or that bottle opener I reach for in the drawer, or the quick dry towel I still take to races, each emblemized with one of my favourite brands. I have an 'Ironman Triathlon' quick dry towel that I got at the World Championships in Kona HI in 2005 (still have it!), a bright red bottle opener from Split Rail Brewing on Manitoulin Island, and a great toque from Esso circa 1996 that I wore to OFFSA Cross Country Skiing… And guess what? Still have that too!
As a Realtor, my business is based entirely on relationships, building trust, and fostering positive word of mouth. In fact, I'd argue that any relevant, scalable business, is at some level dependent on the same forces.
I started Lock Street Brewing Corporation to complete a commercial heritage building redevelopment project. The brand honours those who are leaders and who take calculated risks for some form of greater good. Our products are all natural and made using traditional European standards and techniques.
Instead of pens, fridge magnets, or mini calendars, I thought that craft beer helps bring people together.  People share stories, share moments, and celebrate with craft beer. It seemed ideal and fitting to use a product that brings people together as a touch point for my own brand.
A 6-pack of "Wolf the Realtor" craft pilsner at a Thanksgiving gathering or a Christmas party gets people talking… Talking about the brand and about the great product inside.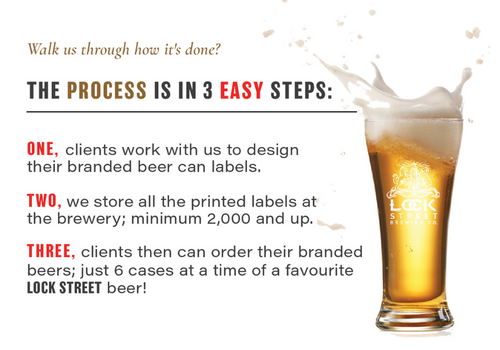 Why just six cases at a time?
It's simply because of storage. Clients don't need a warehouse to store all their tasty beers. Clients can just order as they need it.
How would you distribute these?
This is the fun part! Clients can get creative on using their custom beers as business cards. For me, I take a 6-pack to my real estate's first meeting or as closing gifts. Anywhere that I do business, I'll leave beers for them and their staff. Even the garbage and recycling truck drivers on my street get beers, no drinking on the job, of course! I enjoy giving it away. I remember when my boat was being fixed this summer… a 2-4 of Wolf the Realtor Pilsner somehow bumped my repair up a few weeks! The feedback you get is always positive!
Can it reach the target market?
Great question! I have a real estate client that I offered my Wolf the Realtor beers to for their house warming BBQ. I received calls from people I've never met before and they became my clients. They were inspired by our story on the can and by the feedback they got when they asked my clients about working with me. One of those new clients even took extra few cans home and was still talking about it when they had their own guests over a week later. These cans travel, and as a 'touch point' they literally spend time in the hands of those you're trying to connect with.
What are the brew options?
Clients can choose from one of our flagship beers. Typically always in stock, our flagship beers are all very approachable and loved even by those who don't call themselves "craft beer" people. Lock Street's 'Port Side Pilsner' is by far the number one choice. It's a clean, fresh, and enjoyable. We also have a honey brown ale (Jealous Mistress), an easy drinking IPA (Industrial Pale Ale – it's not dry hopped!), and a black lager (Black Sail) that is so smooth to drink. In some cases, with some extra lead time, a client could choose a seasonal beer or even arrange for a custom batch, as they please, of the non-flagship beers available for purchase. I'll even offer them a deal when I list their own home for sale!

What are some compliance limitations we need to be aware of, if any?
Don't give it to minors (or miners… that job is dangerous enough) and don't sell it! Also, don't pack it in your carry on at the airport, take it into schools, or try to get it past security at the Raptor's Game. Otherwise it's all very simple. The product is manufactured on our licence and we remit the excise taxes. No limitations if you're just consuming it yourself or giving it away as gifts.
What are the various lead times?
It takes two to three weeks to get your labels. Once we have the labels, you will have the product very quickly. If you need a specific beer, our flagship brews rotate in a 4-week cycle so there could be a gab if you're waiting for the Jealous Mistress. Our Port Side Pilsner is on all the time however!
Any timely advice for businesses?
CHRISTMAS is fast approaching, if you're interested in beers-ness cards as your giveaways, find me, or Jake (our phenomenal head brewer) at Lock Street before the end of October and we can sort you out!
Branding is a continuously evolving artform that involves not only impressive design and clever messaging, but also ingenious thinking - and Wolfgang is paving the way for businesses to keep up with that. With constant need to stand out, a business requires being gutsy and bold.
Your brand needs to appeal to people's instincts, their desires to be happy, their tactile nature, and their abilities to feel authentically connected to your brand.
Try the LOCK STREET BREWING CO. branded beers as your BEERS-NESS CARDS.
Beer comes with a variety of shades of gold. Light, dark, and glaring gold! Gold, eh? It must be a lucky sign for business growth!
Located in Port Dalhousie's heritage district, LOCK STREET BREWING CO. is committed to crafting authentic brews for your absolute enjoyment.