Details

Written by:

Reveal Magazines

Reveal Magazines
Thorold is amid an economic revolution. The city is experiencing tremendous growth and development, contributing heavily to the Canadian economy. At the same time, the city is well-known for its high quality of life, affordable housing, and affordable cost of living. The population has increased by more than 20% over the past decade, and it's expected to continue growing at a steady rate.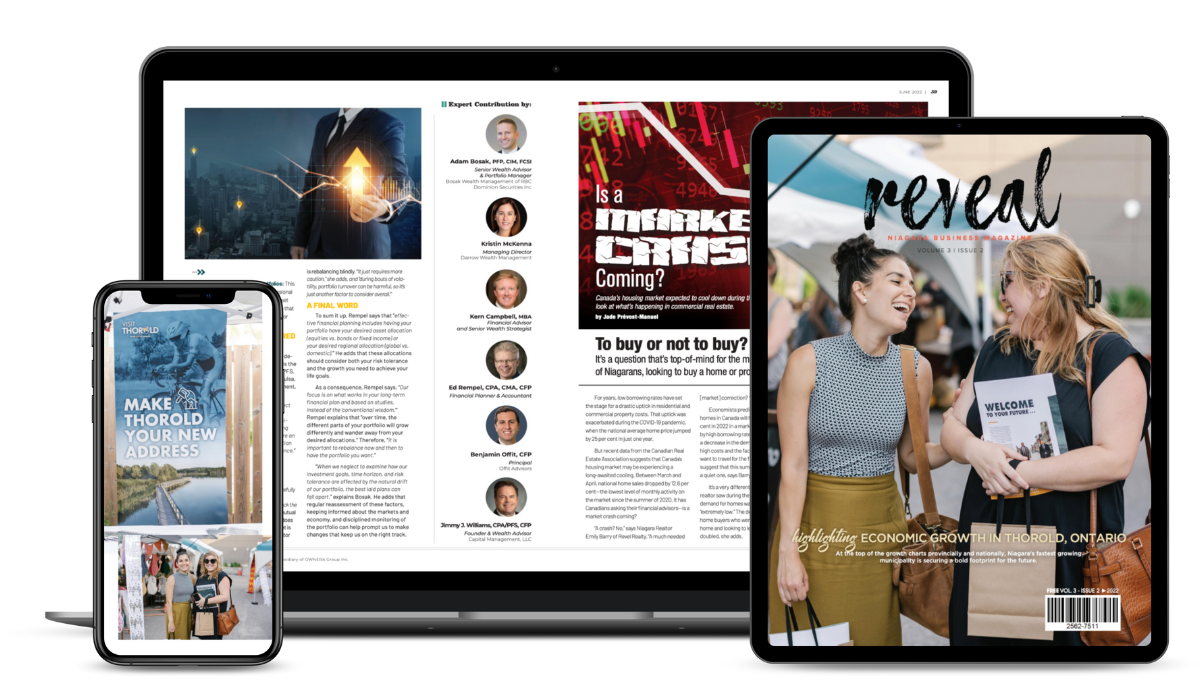 Based on 2021 census data, which reported a population of 23,816, accounts for a 26% increase since the 2016 census data compared to the provincial and national averages of 5.8% and 5.2% respectively. This data, however, does not include post-secondary students living in the community while carrying out their semesters at Niagara College or Brock University. The population growth is largely attributed to an increase in young couples and families relocating to Thorold and occupying single-detached homes, evident by the median age of 41.1, the rising residential development and strong occupancy rates. New residents and potential newcomers are attracted to Thorold's vibrant and lively community, inclusive of the urban downtown core offering cultural cuisines, authentic retail experiences, and plenty of greenspace to unwind.
A strategic, long-term approach to economic development is a top priority for Thorold, solidifying a bold footprint for the future of the city. This commitment to the future is forged by a comprehensive network of strategically aligned partnerships, investments into entrepreneurial growth, and intentional development of key infrastructure projects that enhance the quality of life and business.


Economic Districts
To position itself for strategic growth that will serve multiple critical markets, there are exclusive segments throughout the city invested in core structure designed to further fuel the calculated economic agenda.

District One - Brock Business Park
A unique urban centre, the area that also encompasses Brock University is transforming into a sophisticated mixed-use location designed to meet the market demands of growing incubators and start-up companies. The university acts as a core economic driver centring the surrounding area of high density residential and commercial growth.
District Two - Port Robinson
Divided in half by the canal, the Port Robinson Ferry is the only ferry service operating on the Welland Canal. This vital transportation link has been shuttling pedestrians since the 1970's and is an exceptionally fundamental component to Niagara's sought-after cycling trails. The unique area rich in history is poised for substantial residential and supporting commercial growth.
District Three - Downtown
With more than 50 designated heritage buildings, the downtown offers a historic romance as you explore the streets, shops, and restaurants. Mixed-use zoning has allowed for an urban revitalization inviting more commercialized space and services to its core while continuing to support an authentically creative and cultural side.
District Four - Highway 20
Serving as a catalyst for growth, the existing 1.9-kilometre route is perfectly positioned for lucrative commercial and employment growth that will serve the residential densification taking place at both the north and south ends.

Multimodal Hub
In the past, Thorold was known for its small-scale manufacturing businesses, however, that has changed in recent years with the opening of a multimodal hub.
The Thorold Multimodal Hub is a transportation and commercial center that is immediately adjacent to the Welland Canal, which is a key part of the Great Lakes-St. Lawrence Seaway system. The hub was created to provide businesses easy access to both existing and emerging transportation networks, from railroads to highways and waterways.
The multimodal hub is designed to connect rural areas with urban centers by providing both goods and services. It also connects cities and towns across Ontario with one another through various modes of transportation, including rail, roadways, and waterways. The multimodal hub is located on a former industrial site that was previously occupied by a manufacturing plant.
The multimodal hub offers over 500,000 square feet of highly versatile warehouse, transportation, docking and storage space. The companies currently operating out of the multimodal hub include:
Bioveld Canada: Specializing in the productive repurposing of brownfield and industrial sites.
AP Products: Providing businesses with supplies, chemicals, paper, plastic, foam & Eco disposables.
TORA Inc: Allows manufacturers to quickly contain nonconforming material and assist in resolving quality concerns through their modern warehousing and packaging facilities.

Emergency Welding Operations (Niagara) Inc: Provides manufacturing, custom welding & fabrication, and modification of stainless steel and aluminum products.

Canadian Maritime Engineering: Services all marine and industrial companies including machining, mechanical, welding, fabrication, and specialty coatings. 

Sports & Recreation
With a focus on growth, Thorold maintains a commitment to also invest its amenities that serve the people, such as its trails, parks, and recreation facilities.
Surrounded by natural beauty, the city offers residents and visitors alike a wide variety of recreational options. With more than 300 acres of parks and greenspaces, its extensive network of trails can be used for hiking, cycling, or running while the variety of parks provide the perfect backdrop for friendly gatherings, picnics, and other activities of choice. Encouragement to explore culture, heritage and the arts also contributes to a vibrant and connected community.
To maintain its commitment to continuous enhancement of its recreational assets, Thorold developed an official Parks, Trails, and Recreation Master Plan to serve as an ongoing planning guide for its indoor and outdoor spaces. This plan focuses not only on maintenance and enhancement, but also to add and diversify recreation space as the economy grows.
The perfectly positioned waterways and canals throughout Thorold provide cyclists and recreationalists with over 12.5 km of accessible paved trails. Known to attract cyclists from all over the world, the trails are part of the Greater Niagara Circle Route that moves along the Welland Canal. Its connection with an old CN Rail Line allows cyclists to explore the entire region throughout more than 140 km of trail.
With the recent opening of Canada Games Park and the Walker Sports and Abilities Centre, the $102.7-million investment situated at the corner of Sir Isaac Brock Way and Merrittville Highway will redefine the future of sports and recreation not only in Thorold but throughout Niagara.

Canada Games Park will be open to the public after the conclusion of the 2022 Games, managed through a unique partnership between the City of Thorold, Brock University, the City of St. Catharines, and Niagara Region. This incredible facility is built upon a future-forward, sustainable footprint providing accessible recreational opportunities to the entire community. This world-class event space will host a variety of sporting activities including provincial and national events, as well as cultural events and community activities for years to come.  
When reviewing what the city has to offer, the advantages to investing in the growing municipality are seemingly endless. It's integral network uniquely ties together the crossroads provided by its geographical footprint leveraging these assets for a pro-active approach to economic prosperity.