Details

Written by:

Reveal Magazines

Reveal Magazines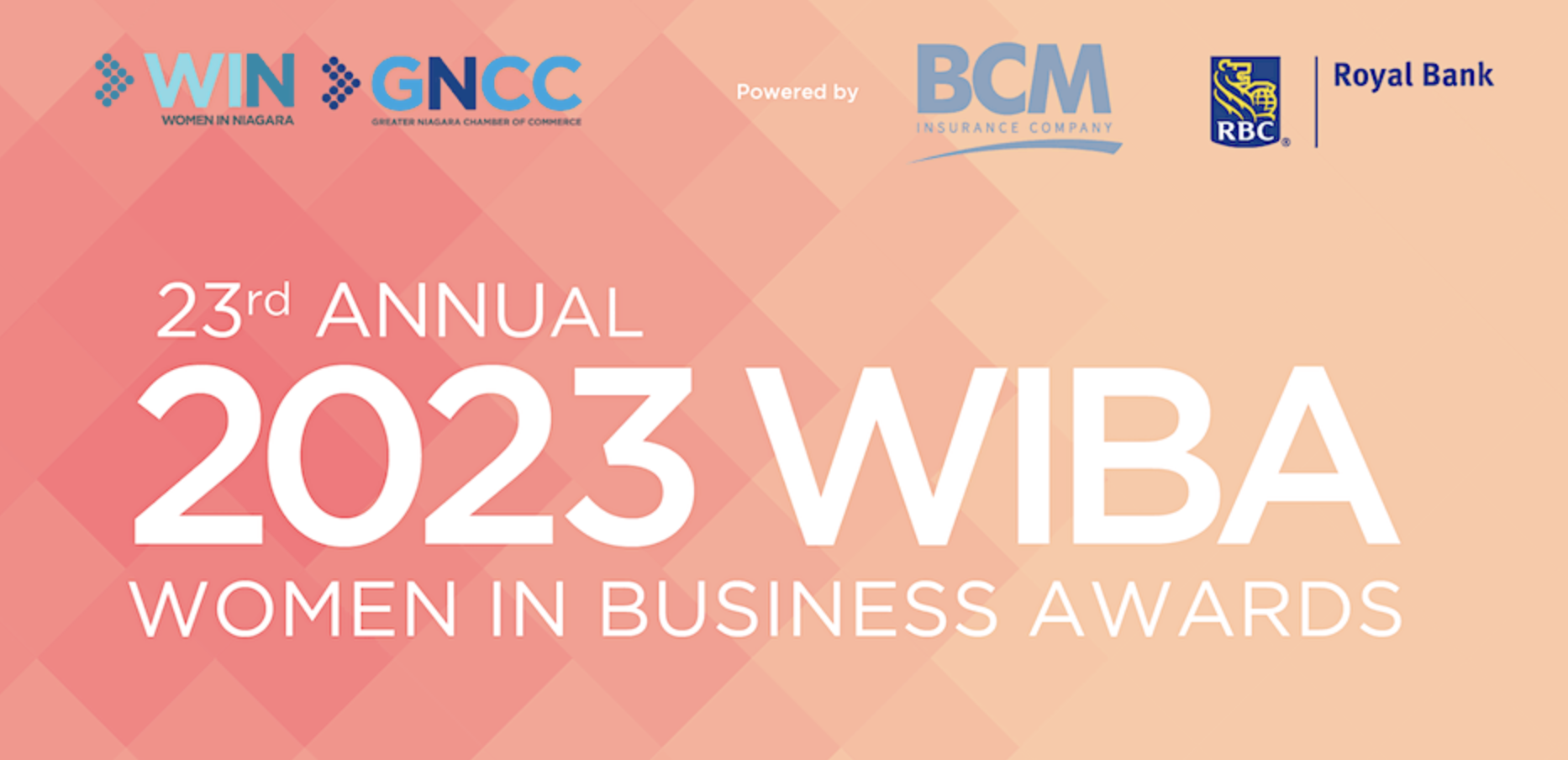 This announcement was released by the Greater Niagara Chamber of Commerce, Oct. 30th, 2023
Over 200 women were nominated for the record-setting 2023 Women in Business Awards. We would like to congratulate all our nominees and thank everyone who nominated an outstanding woman in business.

Without further ado, we are pleased to announce this year's finalists:
Business that Gives Back Award
TD
Dwyer-Hamilton Paralegal Services
Corks and Bubbles Inc.
Community Impact Award
Angela Casucci, Meridian Credit Union
Beth Fleeton, CAA Niagara
Caterina Ficano, Royal LePage
Juliet Dunn, TD Niagara Jazz Festival
Lise Andreana, Niagara Pumphouse Arts Centre
Melissa Debeau, Skycomp Solutions Inc.
Pam Lilley, MNP
Rochelle Ivri, Immigration Refugees and Citizenship Canada
Corporate Leadership Award
Amanda Buonocore-Kish, Walker Industries
Caitlin Armstrong, Meridian Credit Union
Carolyn Ryan, YourTV Niagara
Cassandra Ogunniyi, Niagara Region
Chandra Sharma, Niagara Peninsula Conservation Authority
Deidre Miller, Niagara Falls Convention Centre
Fiona Peacefull, Niagara Health
Marnie Cluckie, Corporation of the Town of Niagara-on-the-Lake
Pam Lilley, MNP
Serina Carbone, DeSantis Homes
Tracy Feor, General Motors Canada
Cultural Arts Award
Gina Schafrick, These Architects Inc.
Jean Bridge, Rodman Art Institute of Niagara
Sarah Kaufman, Niagara-on-the-Lake Museum (Niagara Historical Society)
Sonia Aimy, African Women Acting AWA
Emerging Business Award
Angela Browne, INVICTUS LEGAL LLP
Carrie Elefante, Nibbleez Boards Platters Catering & More
Devon Elcomb, Pressed In Time
Emily Barrett, Mosaic Psychotherapy Collective
Gabrielle Smith, Fix My Books Inc.
Michelle Gadula, Starnotch Costume and Garment Design
Stacey Stemplowski, Grounding Balance Wellness & Psychotherapy
Entrepreneurship Award
Britt Dixon, Britt Dixon Creative
Debi Katsmar, PRowl Communications
Dr. Daniela DiPaola, Impact Health
Dunya Alhaddad, Oemchem
Jessie MacDonald, MAC Inc
Kelly Frechette, Board Boss Drywall
Lesley Calvin, Positive Forward Motion
Lori McDonald, Provisions Food Company
Stephanie Lakeit-Hall, SH Consulting Group
Equity Entrepreneur Award
Gabrielle Smith, Fix My Books Inc.
Neska Morrison, Annissi Beauty Salon
Sharon Corcoran, Corks and Bubbles Inc.
Excellence in Hospitality and Tourism Award
Alana Hurov, 124 on Queen Hotel and Spa
Allysha Howse, Tipsy Theory
Alyssa Waldes, White Oaks Resort and Spa
Eileen Tinio-Hind, NF4U Hospitality Services
Makayla Van-Helsdingen, Calamus Estate Winery
Melissa Sauer, Niagara Parks Commission
Minerva Ward, Niagara-on-the-Lake Chamber of Commerce & Tourism Niagara-on-the-Lake
Whitney Rorison, Dillon's Small Batch Distillers
Excellence in the Not-for-Profit Sector Award
Alicia Merry, Hospice Niagara
Andrea Scott, Niagara Health Foundation
Christine Clark Lafleur, Port Cares
Deanna D'Elia, YMCA of Niagara
Lorrey Arial-Bonilla, Early Childhood Community Development
Nicole Regehr, Gillian's Place
Shauna MacLeod, Willow Arts Community
Tracy Geoffroy, Hotel Dieu Shaver
Excellence in Trades Award
Kaitlyn Simpson, Safe Tree Ltd.
Katie Clarkson, R2G Construction Inc
Shelley Parker, Alectra Utilities
Health Care Hero Award
Jennifer Hansen, Hotel Dieu Shaver Health & Rehabilitation Centre
Julie Christiansen, Julie Christiansen Counselling & Psychotherapy (Spa for the Soul)
Karen Lutz, Niagara Emergency Medical Services (EMS)
Science, Technology, Engineering and Math (STEM) Award
Bobbie Thoman, NOCO Energy Corp. and Stratium
Darby McGrath, Vineland Research and Innovation Centre
Hillary Kumm, General Motors
Mariana Garrido de Castro, Kytos
Young Professional Award
Alyssa Stuppiello, DDL & Co.
Alyssa Waldes, White Oaks Resort and Spa
Brandy Fulton, Abatement Technologies Limited and Ravine Vineyard Estates Winery
Brianna Aymar, Goldie's Museum
Brianne Bradley, Beattie Stationery Limited
Emily Barrett, Mosaic Psychotherapy Collective
Emily De Sousa, Seaside with Emily
Erin Hagar, SunOpta Inc.
Jessie MacDonald, MAC Inc.
Jordan Saksena, The Kesh Group - Royal LePage NRC Realty
Kaitlin Vandenbosch, Bench Brewing Company
Krystal Riddell, Essentials Cremation and Burial Services Inc.
Marissa Stones, YMCA of Niagara
Nicki Lumsden, The Niagara Sold by Kate Team at Remax Niagara
Meet the 2023 WIBA Bestowed Award Recipients
Valerie Pringle
2023 Lifetime Achievement Award Recipient
Valerie Pringle is a highly respected Canadian television personality known for her outstanding contributions to the field of broadcasting. As the co-host of the iconic showCanada AM, her warmth and professionalism were a good morning welcome for audiences for over a decade. Her contributions to the show helped solidify its status as a beloved morning staple for countless Canadians. Some of her other hosting credits include the travel show Valerie Pringle Has Left the Building, Antiques Roadshow and Canada Files. 
Valerie Pringle's career is marked by her dedication to community involvement. She has served as spokesperson for the Canadian Foundation for AIDS Research for over two decades and has been involved in numerous charitable organizations, demonstrating a strong commitment to making a positive impact on society. She is also a member of the foundation boards for The Centre for Addiction and Mental Health and the Board of Niagara Project. Her philanthropy has earned her numerous accolades and awards, and in 2006 she was made a member of the Order of Canada. 
Valerie remains an enduring figure in the Canadian media landscape, recognized for her significant contributions to journalism and her unwavering commitment to improving her community.
The Lifetime Achievement Award celebrates the extraordinary success of a Niagara woman in her business and community over the course of her career.
Deborah Rosati
2023 Ruth Unrau Legacy Award Recipient
Deborah Rosati, an award-winning corporate director and entrepreneur, has been defined in three interconnected ways throughout her 35-year career – as a corporate governance champion, catalyst for change and community builder.
As the founder and CEO of Women Get On Board Inc. (WGOB), an 850-member social-purpose company, Deborah is building a community of the next generation of women corporate directors, advancing equity, diversity & inclusion (EDI), collaboration, courage, and confidence in the boardroom.
Deborah's passion for good governance and board diversity is rooted in her board journey when she was often the only woman in the boardroom. These first-hand experiences cemented Deborah's conviction that having more women on boards makes better business sense.
The Ruth Unrau Legacy Award was created in the name of Women in Niagara co-founder Ruth Unrau, to be conferred upon a woman who shares Ruth's spirit and dedication to advocacy for women in business, and who has lifted up female entrepreneurs through her work and support. The award recipient will have championed women in trade and commerce, and empowered others to achieve success. 
Join us on November 16 as we recognize and celebrate all women in business in Niagara.
Since 2000, the Women in Business Awards have been honouring enterprising women whose businesses and community contributions have made a significant difference in the region, and in the lives of Niagara residents. The awards are a symbol of achievement for those women who are an inspiration for others, exemplifying excellence, commitment and vision.
November 16 11:00am–2:30pm
Marriott on the Falls , 6755 Fallsview Blvd Niagara Falls

2023 WOMEN IN BUSINESS AWARDS
POWERED BY